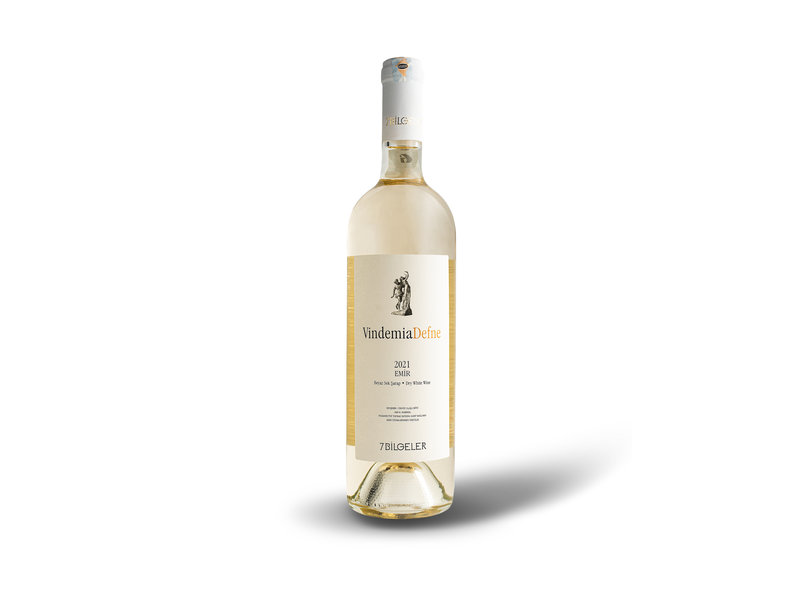 € 23,06
€ 27,90 Incl. btw
Varietal : Emir / Cappadocia

Vintage : 2021

Taste: Lemon, apricot, yellow apple, grapefruit

Recommended with fish, sea food and white cheese

Alcohol Rate : %12

75 cL
Lees meer
Nearby the famous ruins of Greco-Roman city Ephesus sits the southern Aegean winery Yedi Bilgeler. It was almost fated that owner Bilge Yamen, who hails from the northeastern city Kars, should establish his winery mere kilometers from this ancient city.
Kars and Selçuk, where Ephesus can be found today, are separated by more than just distance (1,689 kilometers to be exact). Kars is located in the very northeastern corner of Turkey's Anatolia . Kars has a humid continental climate with significant differences between summer and winter temperatures. High elevation, long, cold winters buried under snow, and brief mild summers are not conducive to grape growing. Selçuk on the other hand, belongs to the Izmir province. The city sits near the sea and its mild winters and long, warm summers allow for a great deal of successful agriculture. It therefore was a very attractive option for Yamen when he was looking for a place to establish his winery.
Winery's name comes from The seven sages: Lasos (left), Chilon, Pythagoras, Anaxagoras, Solon, Bias, and Thales. It's not surprise to have a Pythagoras, Lasos or Thales Miletos served as Every wine here is named after a different philosopher that once used to live in the area.
Emir, the lord of grapes and grape of lords! One of Turkey's premier white grape varieties, Emir is thought to have earned its name (which means "prince" or "lord") by being a favorite at the table of princes and lords during the Ottoman Empire. Or perhaps the name is meant to show how finicky and difficult the grape is to grow!
Native to the Mid-Southern, Central Anatolia region, Emir (eh-meer) shares its home with Turkey's famous Cappadocia. While the grape does not exactly take advantage of the hot air balloon rides; being at home in this region means it's not afraid of heights! This region has a generally high altitude of over 1,000 meters. Nor does Emir fear the cold which is great in this cold continental area where cold, autumn rains and deep winter snows make up the majority of precipitation. Emir grapes prefer soils largely composed of sand, sandstone, and decomposed volcanic tuff; making this otherwise infertile region a perfect home. Grapes are slightly oval, green-yellow, middle sized, grow in middle sized conical clusters, and ripen mid-season.
Unsurprisingly given its growing environment, Emir grapes never develop a high level of sugar. Which translates into wines that are always dry with high levels of acidity. Emir has no affinity for oak and therefore (usually) ages in stainless steel. However, some malolactic conversion or sur lie ageing is not unheard of.
The best examples are pale straw yellow wines famous for the crisp apple and minerals in the nose. On the palate this crisp and lively wine carries the flavors of apples, pineapple, kiwi, lemons, white roses, and mineral; so much so that it can sometimes be described as tasting 'salty'.
Er zijn nog geen reviews geschreven over dit product.
Reviews
Er zijn nog geen reviews geschreven over dit product.
Nieuwsbrief