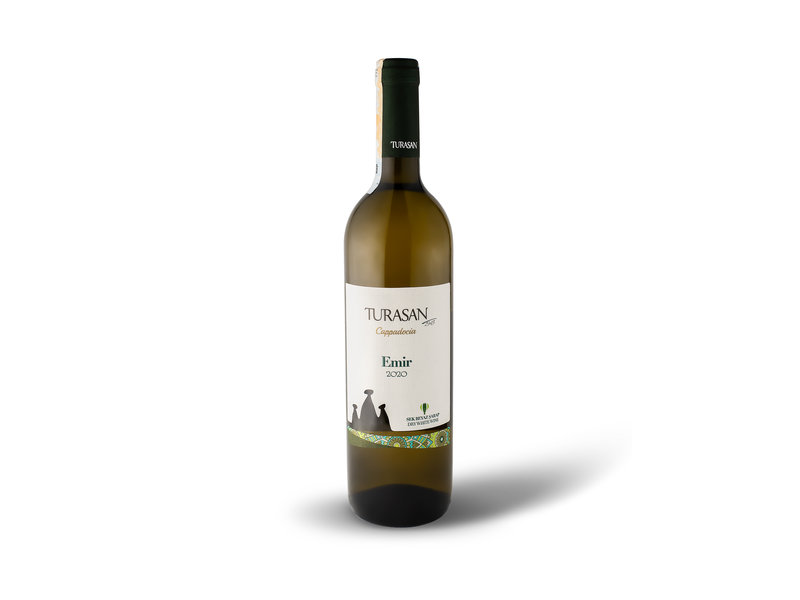 € 11,16
€ 13,50 Incl. tax
Varietal: Emir - Cappadocia



Vintage: 2020



Taste : Pear, Green Plums, Jasmine



Recommended with cold appetizers, fish and white cheese



Alcohol Rate : %13,5



75 cL
Read more
Turasan winery was established in 1943 by Hasan Turasan in Cappadocia in Central Anatolia. Since then the winery has been run by the Turasan family for 3 generations and they have been proud pioneers in the development of the Cappadocia wine region. Led by Hasan Turasan, is committed to producing high quality wines with solid investments in vineyards and the latest winemaking technology.
Emir is a light-skinned grape variety indigenous to Anatolia in central Turkey. Its name is a Turkish word for "order" or "command", which is thought to stem from the wine's popularity at the tables of aristocracy since Roman times. 
Still wines tend to be crisp light and quite delicate, with flavors of green apple, citrus and pear. Most wines made from Emir are intended for early consumption, and do not tend to marry well with oak.
Emir's high acidity makes it suitable for sparkling wine production as well. That style that is becoming more popular among Turkish producers.
Emir is often counted as one of Turkey's most renowned grape varieties, alongside Kalecik Karasi, Bogazkere and Öküzgözü, as well as Sultana, which these days is more often seen as a table grape. However, Emir is often found in blends with Sultana, as well as with the indigenous Narince grape variety.
The variety finds its home in the high volcanic terroir in Anatolia, where altitudes reach as high as 1,200 meters (4,000ft) above sea level. The variation between day- and night-time temperatures that this altitude causes helps the grapes ripen more slowly. This contributes to the high acidity and mineral qualities the typical Emir wine exhibits.
There are no reviews written yet about this product.
Reviews
There are no reviews written yet about this product.
Newsletter